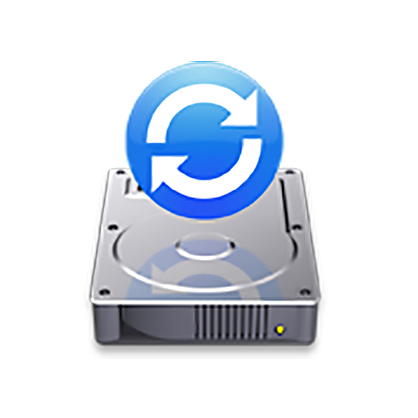 BackupList+ is an all-purpose backup utility for OS X widely used by people who want a simple way of protecting their data without the hassles of complex software. It makes simple copies of files so you don't have to deal with proprietary archives; to restore your files you just copy them back from the backup destination when needed. It copies everything exactly as it is using a specially modified build of the rsync utility, preserving all critical OS X file meta data. You begin by selecting the type of backup, including full system clones, regular backups, incremental backups (like Time machine), or disk images. The concept is very simple but it also offers many more advanced options including writing your own rsync command line for specific situations not covered by the default settings.
This is the release version for 8.8.0. This version fixes some bugs concerning the new release of OS 10.14 Mojave. There are some great new features too including group tasks.See the backupList+ help book (backupList+ Help > Help) for more info on the changes in OS 10.14 Mojave.
Compatible with OS 10.8 Mountain Lion and higher:
Compatible with OS 10.8 Mountain Lion and higher.
Version 8.4.1 Compatible with OS 10.6 Snow Leopard and higher.
Note: I no longer have all the detailed instructions and information on backupList+ posted here. You can access all the information from backupList+ by going to Help menu > backupList+ Help. This will bring up an excellent apple help book!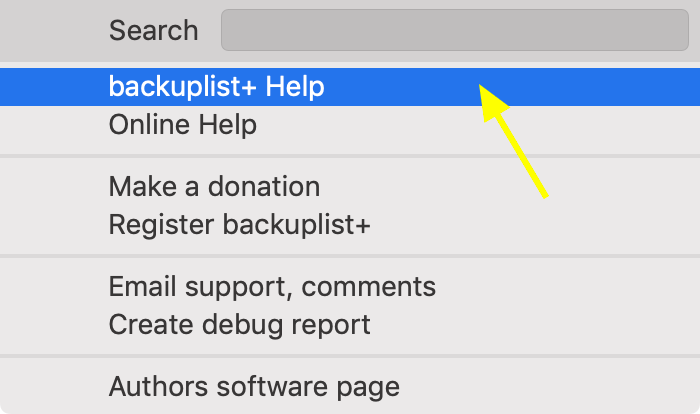 Important new considerations:
Starting with Mac OS Mojave, Security issues will prevent backupList+ ( or any other backup apps like Suyperduper and CCC ) from copying most of your user files and all System files. To fix this you must add backupList+ to the list of apps allowed Full Disk Access in the Security Pane of System preferences. You can do this easily from within backupList+by opening the Preferences window and following the instructions there. You need to enable "Full DiskAccess" as well as give backupList+ permission to run as root to copy these files.
Open Preferences (backupList+ menu > Preferences)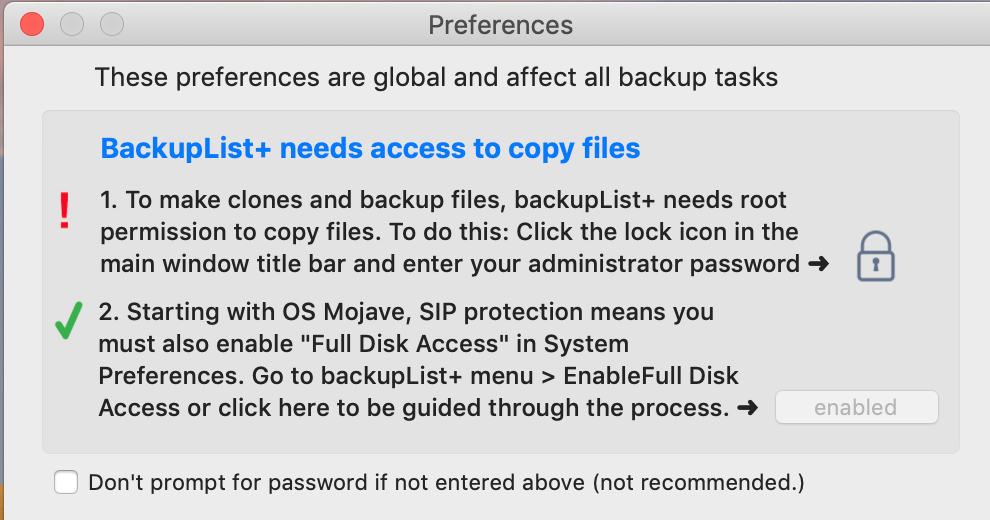 Then follow the instructions there > click the lock in the main backupList+ window and enter your admin password. Then click the "enable" button to open System preferences and follow the instructions in the window.